About Blumen Royal Garden
Blumen Royal Garden is producing blackberry wine of the highest quality. It is well known that blackberry wine has both nutritional and therapeutic properties. Many doctors recommend this wine for improving conditions such as anemia and for improving the overall health.
The therapeutic properties of the blackberry are known for a long time and our food technologists have mastered the procedure of producing blackberry wine with maintaining the good properties of this precious fruit. You are going to recognize our wine by the label which is the sign of our quality: a fist with a raised thumb. The wine is packed in the glass bottles of 0.75 l and 0.185 l.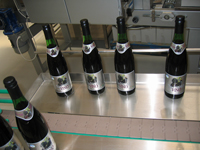 Wine production and bottling line